Legal Georgia Gambling Sites
Welcome and thanks for visiting our page dedicated to legal online gambling in Georgia. Georgia has a handful of regulated gambling options that aren't sufficient to satisfy gambling enthusiasts. The state offers a lottery, some charity gaming, and a couple of cruise ships. Its gambling law, though vague, unclear, and largely outdated, strives to protect its regulated gambling industry.
On this page, we have tried to answer all queries pertaining to online gambling legality that residents of Georgia might have. This page also serves as a guide to Georgian players seeking to register for real money play at legal online gambling venues such as online poker rooms, online casinos, and online sportsbooks.
Is Online Gambling Legal in Georgia?
A major part of Georgian gambling law says nothing about online gambling, but it could be argued that some parts of it are applicable to online gambling. Georgia's gambling law prevents the use of any gambling machine or device; besides, it has a law that criminalizes the dissemination of gaming-related information. These aspects could be used to sue gambling companies operating online gambling sites in Georgia, but not players. Residents of Georgia can rest assured that the gambling laws of their state just cannot prevent them from signing up for real money play at any online gambling site.
It is worth noting that Georgia is especially hostile to online gambling, owing to which players cannot expect the state to take any steps to legalize and regulate intrastate online gambling although the federal government has clarified that the Wire Act no longer applies to online poker and online casino games.
Other Interesting Articles: Is online gambling legal in the USA?
Georgia Gambling Laws And Statutes
Georgia just does not tolerate any form of unregulated gambling in its territory. Players can gamble as much as they please, but only at gambling outfits licensed and overseen by the state. Georgia's gambling laws focus more on protecting consumers and keeping its regulated gambling industry free from unsavory elements than in prosecuting individual players for taking part in illegal games.
As far as regulated gambling is concerned, Georgia's offerings are meager. Players can take part in the state-owned lottery game or in charity gambling events organized by licensed organizations to raise funds for social welfare activities. The absence of land casinos in Georgia makes it a dull place for average gamblers.
Georgia is slightly friendlier to poker players as it is home to several poker clubs, where poker tournaments are organized and prizes are given away. However, if players bet anything of value on the outcome of the poker game, it is considered to be illegal.
Other Related Articles: Online Gambling Laws In The U.S.
Latest Georgia Gambling News + Archive
Legal Online Gambling Sites for Georgia Residents
Georgia does not have any online gambling laws preventing players from playing for real money at online gambling sites. This makes any online gambling site that is licensed and regulated and accepts players from Georgia legal for Georgian residents to play at.
Atlanta Falcons Super Bowl Gambling Guide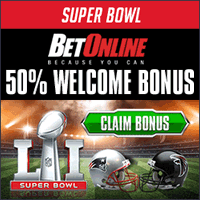 A Super Bowl gambling guide for the Atlanta Falcons starts with the fact that they will be playing in just their second Super Bowl in franchise history and will be looking for their first championship ever. They are a 3 point underdog in SB 51 and as the moneyline stands now, they are set at +140. Atlanta's offense will be the key for them in this game as they have dominated offensively for the entire season. They will have to beat a Patriots offense led by perhaps the greatest quarterback of all time in Tom Brady. For this reason, the total line for Super Bowl LI is 57 and a half, which is the highest mark in Super Bowl history. There will be tons of different odds available at all of the major online sportsbooks and the variety of bets to choose from are essentially endless. Sites like BetOnline and SportsBetting have tons of different prop bets for the Atlanta Falcons so sign up today and put money on the hot lines while you can.

BetOnline Sportsbook - Live Betting Odds For UGA And GT Football Games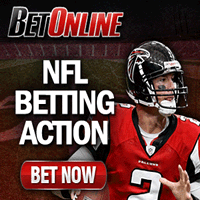 Georgia residents love to fish, it's so relaxing. Imagine yourself out on a boat, line in the water, and you are waiting for that largemouth bass. What if while you were waiting you could also bet on your favorite sports, play poker, or cash in at the slots? Well, you can. BetOnline is the best legal gambling site for Georgia fishermen/women. There is no catch and release with BetOnline, once you start playing you wont want to let go. Reel in all the bonuses and special features, when you sign up for free at BetOnline.
BetOnline offers a giant selection of bonuses for players once they make their first deposit. These bonuses are like shooting fish in a barrel, they are that good. BetOnline has the 25% welcome bonus just for making your first deposit and can add $500 to your ice chest, if that doesn't give you a fish-eating grin nothing will. BetOnline also offer the 50% reload every 30 days and with a qualifying deposit, this bonus can stock you up to $1000. You wont be a fish out of water at BetOnline, it'll be just as relaxing, and fun as sitting in that boat, drinking a beer, and you'll fall for BetOnline – hook, line, and sinker. Signup Now!
Are Online Casinos Legal in Georgia?
Online casinos are legal in Georgia provided they are not based in Georgia. It is illegal for any gambling operator to run online casinos in the state, but there is no law to prevent players from registering at online casinos based in remote places. We have made a list of several licensed, Georgia friendly online casinos for the benefit of Georgia residents.
Legal Georgia Online Casinos

Casino Bonuses

Software

Play

100% up to $200 Bonus

RTG

400% to $4,000 Casino Bonus

RTG

100% up to $777 Bonus

RTG

200% up to $1,000 Bonus

RTG

100% up to $747 Bonus

RTG

200% Casino Bonus Available

RTG

200% up to $2,000 Bonus

RTG

100% up to $500 Bonus 10x

RTG
Is Sports Betting Legal in Georgia?
Since the US is very unfriendly toward online sports betting, there is nothing much individual US states, including Georgia, can do in way of legalizing sports betting. Players cannot bet on sports events in Georgia, but no player has been prosecuted for registering at an offshore online sportsbook so far.
Legal Sports Betting Sites that Accept Georgia Residents
Residents of Georgia eager to bet on local, national, as well as international sports events only have to sign up at any Georgia friendly online sportsbook listed below. There is no other legal way for Georgia residents to bet on their favorite sports events in Georgia. The online sports betting sites we have handpicked for you offer a wide range of betting options and great odds.
Helpful Sports Betting Articles:
Is Online Poker Legal in Georgia?
Georgian laws do not allow operators to run online poker rooms in Georgia, owing to which the state has no legal online poker options for its citizens. Offshore online poker rooms, however, are eager to accept bets from Georgian players, and the state does not appear to have anything against it.
Poker Sites that Accept Georgia Residents
The poker rooms listed on this page are the best for Georgian residents. They not only offer great, easy-to-clear new player bonuses, but also help new players qualify for prestigious live poker events.
Georgia Online Poker Sites

Deposit Bonuses

Avg. Players

Play Poker Now

Bovada Poker -

47 States

$1,000 Max - 100% Match
20,000+
Go To Bovada
Sportsbetting.ag -

50 States

$1,000 Max - 50% Match
8,000+
Go To Sportsbetting
BetOnline Poker -

50 States

$1,000 Max - 50% Match
8,000+
Go To BetOnline
Land Based Gambling in Georgia
As previously mentioned, Georgia is the one of the dullest US states for casino gamblers as it does not have any land casinos. However, it has a couple of cruise casinos, which sail into international waters before offering real money casino games.
Players eager for real money casino gaming can try the Millionaire's Casino in Savannah, which strives to offer the ultimate casino gambling experience. Alternatively, players can try the Emerald Princess Casino in Brunswick.
Closing Thoughts About Legal Online Gambling For Georgia Residents
Georgia is not the ideal place for casino players although it has a sprinkling of card clubs and a state lottery. Georgian residents hungry for the thrill and adventure of real money gambling have no other option but to sign up at an offshore online gambling site. Since Georgia hasn't framed any clear online gambling laws, players can do so without fear of prosecution.