Two Shot In Robbery Of Illegal Gambling Parlor In Atlanta; Case For Online Gaming?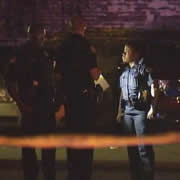 Police were called to a crime scene where it was reported that two people were shot on the west side of Atlanta just after midnight on Tuesday. Upon arriving, authorities quickly realized that they had also stumbled upon and illegal gambling ring, complete with a variety of slot machines as well as different tables.
Witnesses at the scene stated that three armed men entered the house and robbed individuals on the premises.
It was during that robbery the two individuals received gun shot wounds - one shot in the leg, the other reported to have been shot in the stomach. A third individual suffered a heart attack at the scene when police began to arrive.
This is yet another example of the dangers presented with illegal gambling in the United States.
While there are plenty of legal land-based casinos within the U.S., the safest form is by gambling legally on the Internet.
Internet gambling offers everything that can be found in a casino, spanning slot machines, table games, and specialty games. There are plenty of legal sites available for American players, like those in the Atlanta area, to join and play for real money.
While the gambling sites that are currently open to American players are primarily based offshore, there are individual states taking a stand and enacting their own regulatory legislation and operation of gambling sites; Nevada, Delaware, and New Jersey are three states leading the charge.
Nevada already has legal online poker sites up and running, and by the end of November, legal online casinos will be in operation within the State of New Jersey. Residents in either state are going to have several options for all types of regulated online gambling by the end of 2013.
Having legalized Internet gambling could move towards alleviating tragedies like the one witnessed in Atlanta this week; it almost certainly would not increase illegal activities.
Both individuals wounded in Tuesday's shooting are expected to make a full recovery; the status of the heart attack patient is unknown at the time of this writing.