Business Already Booming For Legalized Online Gaming In New Jersey
Thursday, August 1st, 2013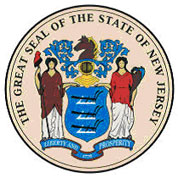 Fully legalized, state-sanctioned and –regulated Internet gambling is not officially launching in the state of New Jersey until later this fall. That has hardly stopped some of the nation's most forward-thinking gambling and entertainment companies from jumping on the bandwagon, however. According to reports, there have already been 37 firms to apply for online gambling licenses in New Jersey—with more sure to follow.
The deadline for applying for an initial online gambling license was this past Monday, and the Gaming Enforcement Division has already reported on the high number of applicants. As the names of these 37 applicants are approved, New Jersey's government will make them public.
The state's online gaming law—signed earlier this year, and effective in the months to come—is widely considered to be a huge step forward in the fight to fully legalize online gaming across the country. Already this year, legal online gambling has launched in the state of Nevada, and several other states, including California and Illinois, have weighed online gambling legalization. There has even been talk on the federal level of a nationwide Internet gambling approval.
Meanwhile, the state of Delaware has passed a bill to implement legalized online gambling, but the actual enterprise has yet to launch.
The New Jersey law applies only to casinos that maintain a physical presence in Atlantic City. As of November 23, they will be allowed to legally provide online gambling opportunities. All of the state's dozen casinos have said they intend to offer online gambling in some form or fashion.
In order to enjoy these new legal benefits, however, companies must be licensed. The Monday deadline was for all firms that wish to be licensed in time to meet the November 23 launch. This includes networking companies, software developers, payment processing companies—essentially, all businesses that are in any way tied to online gambling.
Companies that missed the deadline, of course, will still have opportunities to apply, and to open operations later than November. A recent article quotes New Jersey's Division of Gaming Enforcement Director, Davis Rebuck, as saying that the 37 applicants represent the "first round," and that it is expected "that more applications will be filed as the start of Internet gaming moves closer."
Foreign investors are trying to get in on the action as well, seeking to buy up New Jersey casinos.