Delaware To Expand Sports Gambling Locations For 2013 NFL Season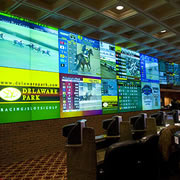 Delaware is one of only two states in the U.S. that currently has legal and licensed land-based sports betting. The other state is Nevada - a state that has sports wagering on a much grander scale. However, Delaware is attempting to expand their sports betting in the state for the second time since its original inception.
Originally, there were three places in Delaware in which sports betting could be done. But again it's important to understand that the betting could only be done on parlay NFL wagers. Straight wagers are still banned in the state.
The three licensed casinos with sportsbooks remain, while an additional 31 'retail sites' were allowed to have bets placed with them. Now, it appears that another 29 retail sites will be added in 2013 for the NFL season, making it a total of three casinos and now 60 sites. More restaurants and other stores will have sports wagering available.
The casinos continued to profit even with the retail sites showing up in the state. The total revenue from the 2011 season to the 2012 season in the NFL jumped by more than $1 million, from $17.8 million to $19.0 million in the casinos alone. The Delaware Lottery is now hoping to piggyback off of the success of the retail sites, which drew in 638,000 bets that added up to a whopping $6.4 million. That makes a total of $25.5 million in wagers made in 2012.
The Director of the Delaware Lottery Vernon Kirk believes that the sites have the potential to bring even more people to wagering on the NFL games. The sites that were chosen for the new expansion have not yet been made public. However it appears that the theory of 'sharing the wealth' will be applied, and that the specific locations all have a reason behind them.
The goal here though is to keep expanding smartly, and not to take away from the three licensed casinos that bettors are able to go to.
"We had a phenomenal year of sales. I think sales are up somewhere in the neighborhood of 40 percent, without cannibalization of the three racetracks. They were up about seven percent. That's sales, we're at the mercy of the results of the games and how much people win and things so that kind of goes up and down, but as long as we keep selling a lot of tickets eventually it'll all even out," Kirk said.
All signs are pointing in a positive direction for expanded Delaware sports betting, which will be available starting in the preseason for the NFL in 2013 beginning in the middle of August. They are expecting to continue to increase their sales, especially with the new addition of sites.