Ultimate Gaming + Trump Taj Mahal Pairing In Bid To Gain Online Gaming License
Wednesday, July 3rd, 2013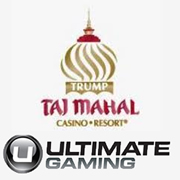 Online gaming in the United States has a big friend and advocate in Donald Trump. Trump's New Jersey-based casino company, Trump Taj Mahal Associates LLC, entered into an agreement with Ultimate Gaming, to help run online casino games and poker for the new project underway in Atlantic City which brings legal online gaming to the state.
Ultimate Gaming is in charge of the legal online poker sites that are currently in operation in Nevada, where residents and tourists in the state are able to play real-money online poker that is regulated within the state, and not offshore.
UltimatePoker.com is the site that was released to Nevada back in April of 2013, and has been in operation within the state since then. This was thanks to the passing of legislation in Nevada some weeks earlier to allow for such a site to legally operate.
The agreement between the two parties stipulates that Ultimate Gaming will provide their 'Ultimate Brands' gaming software to implement into the online casino games and poker rooms. Ultimate Gaming is based out of Las Vegas, Nevada, where they are an industry leader in online gambling and online gaming regulation here in the United States.
Specific details of the arrangement for this endeavor have not yet been made public. A timeframe has also not been discussed, but in general the New Jersey Casino Control Commission stated that they believe the online sites will be operational by Thanksgiving of this year. That should be a pretty clear indicator that New Jersey has a schedule in-mind as the deadline to apply for licensing was set for June 30th, 2013.
With advocates for online gambling in the United States continuing their efforts towards legitimizing the industry, they have to be ecstatic with the fact that Ultimate Gaming and Trump are partnering up on this journey in New Jersey.
The New Jersey online gambling initiative will be the largest in the United States, as they will have the 12 Atlantic City casinos with online versions. The legislation was passed back in February of 2013 and signed by Governor Chris Christie, while the actual New Jersey Internet gaming regulations were released June 3rd, 2013.