New Jersey Leads Charge Toward Online Gambling Legalization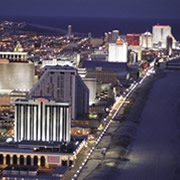 If Nevada has long been at the forefront of legalized online gambling—to date, it is the only state to expressly sanction Internet-based gaming—others are quickly catching up to its progressive attitudes and gamer-friendly stance. Sprinting toward the finish line is New Jersey, a state that has just announced another major step toward the full legal allowance of Internet gambling. According to a story published by Reuters, New Jersey is approaching the launch of state-wide Internet gambling, with plans to publish proposed online betting regulations on June 3.
A preliminary draft of these proposed regulations has already been posted to the official site of the state's Division of Gaming Enforcement. The draft indicates that licensees would be required to pay an initial fee of $400,000 for an online gambling permit, with an annual fee of $250,000 to follow for "problem gamblers."
This draft will see "official" publication in early June; this will be followed by a 60-day comment period, which will end on August 2. During this period, the state's gaming enthusiasts, casino owners, Internet poker room proprietors, and other interested parties will likely engage in a spirited debate about New Jersey's gambling laws, and their future.
Following a review of all of the comments offered, the adoption of the new state gaming regulations will come at least 45 days prior to their implementation.
Though only time will tell whether the New Jersey regulations pass, it seems more likely than not that New Jersey will become the second state to make Internet gambling expressly permitted; already, the state's gambling laws are more permissive and gamer-friendly than almost any other state. Only Nevada—which became the first state to launch government-sanctioned online poker sites—is more progressive.
Nevada's history-making state sanctioning of online gambling came just a few weeks back, when Station Casinos—a company that owns 16 Las Vegas properties—went live with its own Internet poker room, operated by UltimatePoker.com. Other major casinos, including MGM Resorts and Caesar's Entertainment, are making moved toward similar licensing and regulatory action, both in New Jersey and in Nevada. That so many casinos would embrace legalized online gaming is no great surprise: The immature online gambling market is expected to boost casino revenues by billions of dollars.
Currently, several other states are considering similar legislation.
As for New Jersey's regulations, they will make Internet gambling totally legal and government-approved, not just for New Jersey natives but for anyone who wishes to gamble on the Internet while located within state borders.