Trump Casinos Latest To Gain Online Gaming Permits In New Jersey
Friday, October 25th, 2013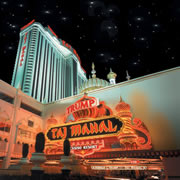 On November 26, the state of New Jersey will officially open its doors for legal, state-sanctioned and regulated, real-money Internet gambling. It will only be the second state in the country to do so, following Nevada—though Delaware will follow shortly thereafter—and as such, there has obviously been much speculation over how popular and profitable New Jersey's gaming venture will be.
By all accounts, the revenues stand to be staggering—therefore, it comes as no surprise that more and more casinos are seeking to get in on the action. The latest addition to the list: The Donald Trump entertainment empire.
Indeed, Trump Entertainment's two New Jersey-based casinos have both received their permits to engage in online gambling when New Jersey opens the floodgates at the end of November. According to a recent news story, both the Trump Taj Mahal Casino Resort and Trump Plaza Hotel and Casino have received the green light from state officials, making them the third and fourth New Jersey casinos to receive their online gaming licenses. Undoubtedly, many more casinos will soon be joining their ranks.
Representatives of these two casinos have stated that the development is a "very positive" one, not just for the Trump company, but also for the Atlantic City gaming market.
The other two casinos, which previously received licensure from the New Jersey gaming regulators, are Borgata Hotel Casino & Spa and Golden Nugget Atlantic City. There has been much buzz over the other casinos that might soon join their ranks, but none have been confirmed by New Jersey officials as of yet.
Interestingly, the two casinos—though owned by the same company—will offer their statewide online gambling sites that are legal through two different Web partners. Trump Taj Mahal, for its part, will work alongside Ultimate Gaming. Trump Plaza, meanwhile, will be working in tandem with Betfair, a prominent UK company with ample experience in the online gambling industry.
While these four casinos are allowed to unveil their legal online casinos to the public on November 26, this historic day will be preceded by a five-day trial period, in which the sites will be tested and tweaked. The hope is for New Jersey's online gambling websites to open smoothly and seamlessly, without any major technological hitches.
There are roughly a dozen more casinos that are almost sure to receive their Internet gaming permits in the days to come.