State of Ohio Sentences Providers Of Internet Cafe Software
Friday, October 18th, 2013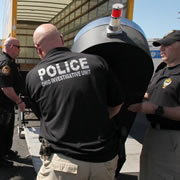 Web-justice was swift for Internet café entrepreneurs Richard Upchurch and Philip Cornick, though the ultimate ruling may not be harsh enough for their New Jersey-based company. VS2 Worldwide Communications was fined $10,000 for attempted gambling and racketeering, though it almost left the courtroom with a $615,000 settlement according to reports. In fact, all the owners did was sign a plea, pay $1,000 apiece, and serve a suspended term in jail.
The defendants were charged with using criminal tools in their company. VS2 Worldwide Communications supplies software to a handful of Internet cafés in the greater Cleveland, Ohio, area. Mike Koty, another New Jersey online gambling software entrepreneur, was convicted of the same counts as the owners of VS2.
The $615,000 is a forfeiture of VS2, though the case's prosecutor says there may be as much as $2 million in laundered funds. The company's defense attorney said Upchurch and Cornick agreed to pull VS2 software from anything that has to do with online gambling in Ohio or land-based in Internet cafes. However, recent state-wide legislature likely would have forced that agreement regardless of the trial.
These Internet cafés were known for their Web and telephone time. They also used slot-like games for marketing, and are reported to provide "harmless recreation for seniors." A lot of frequenters preferred to stay in their home cities without having to travel to a casino. Ohio attorneys, on the other hand, saw these Internet cafés as neighborhood online casinos that were engaged in illegal online gambling and betting.
The Attorney General believes that these cafés are malicious enterprises guilty of cheating seniors and vulnerable gamblers. Most jackpots were low and must have hit only enough for people to go back to them.
The state's case was more against the industry as a whole rather than Cornick and Upchurch. They only received minor fines, considered "light" by many, though the move out of Ohio is likely to break the company. VS2 Worldwide Communications reportedly earned $60 million in the past three years. It brought in a quarter on every dollar.
The defense attorney believed that a lot of the company's operations are entirely legal, but that the case was driven by casino lobbyists and operators. Nationwide, there is a push for secure online and off-site gambling from hobbyists and casinos. This will allow for more regulated online gambling opportunities, job growth, and tax revenue in every participating state. So far, only Delaware and Nevada allow in-state online gambling, though New Jersey is considering the switchover.