New Jersey Awards First Online Gaming License To Borgata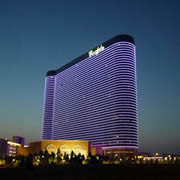 For months, New Jersey gamers have been hearing that the full legalization of Internet gambling was well on its way to becoming a reality. Certainly, the right laws have been passed and the right plans have been laid—but what progress has been made toward actually opening the proverbial doors to a legal online casino?
Finally, there is an answer to this question. According to numerous reports, the very first Internet gambling permit has been awarded to an Atlantic City casino. The lucky winner: Borgata.
Indeed, the New Jersey Division of Gambling Enforcement has stated that the casino emerged as the first to complete its application for a permit. However, Borgata is barred from actually making use of that permit until November 21.
It is on that date that a 5-day trial will begin—and, assuming there are no major problems or complications, state residents and visitors alike will be able to access legal online casino games + poker rooms as soon as November 26.
Though Borgata will surely be the first of many Atlantic City casinos to receive its online gambling permit, the casino's president, Tom Ballance, has said that his company is excited to serve as a leader in the regulated New Jersey online gambling rollout. Certainly, the granting of this permit is a huge step in that direction, and a sure sign to New Jersey gamers that, indeed, the state will be making good on its promise to legalize Internet gambling, sooner rather than later.
When the state does open its online gambling initiatives, it will join just two others—Nevada and Delaware—in allowing legal Internet gambling. These will not be the last states to legalize Internet gambling, though, with many others—among them California and Illinois—holding legislative discussions right now. And with New Jersey's projected Internet gambling revenues totaling in the billions, it seems unlikely that states will hold out long against online gambling's financial allure.
Certainly, this is happy news for New Jersey. Atlantic City has seen its gambling revenues dwindle in recent years, but the advent of legal online gaming should give the industry a shot in the arm.