Resorts Casino Awaiting Approval For Construction Of New PokerStars Poker Room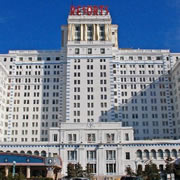 Online gambling businesses moving into physical poker rooms may sound a bit off kilter, given that most E-gamblers utilize Web-based casinos for on the go, accessible gambling. PokerStars, however, is projected to spend $10 million on a new poker room in Resorts Casino Hotel in Atlantic City, pending New Jersey gaming regulators' approval.
Currently, states that have legal online gambling are limited to Nevada and Delaware, though a dozen New Jersey casinos—Resorts Casino Hotel included—are looking to enter into the Web-gambling market. In late November, these casinos will launch a trial period for five days. Each will either be partnered with an existing gambling platform or will be forming their own, but whether or not the New Jersey gaming commission allows full-scale implementation hinges on the success of the soft launch. If everything goes well, gamblers within New Jersey borders will have access to online gambling through these casinos. The in-state restrictions are a national concern as well, though it does reflect states' rights and keeps money local.
Online gamblers outside of these states rely on international platforms like Bovada for casino and legal sports betting. With new state-by-state opportunities, people will have access to domestic Web casinos. This makes gambling a lot more accessible for areas where gamblers have to drive hundreds of miles to make it to a riverboat or on-land casino; instead, they can log on and play a variety of games without the inconvenience of long-distance travel. Another benefit of online gambling is that most platforms have less back-end expenses and are able to provide bonuses and deals to gamblers.
The expansion of physical online gambling centers is also beneficial to hosting cities. If it gets the licenses, PokerStars promises hundreds of new jobs for Atlantic City residents. Many of these are networking positions, and more than 150 will open up for the platform's North American headquarters. Expansion hinges on the trial launch period set to end on November 26. That date, however, will not be officially confirmed until the gaming commission makes a decision on October 11.
New jobs mean more money for New Jersey. Casinos in the U.S. have experienced a steady decrease in revenue (as much as 40 percent) since 2006. With online gambling, however, casino representatives are looking forward to at least a 20 percent increase in revenue. Legal online gaming sites will likely take off, prompting other states to realize how beneficial it is and follow suit. This means even more jobs and revenue for casinos, not to mention additional opportunities for online gamblers.