NJ Internet Gaming Launch Set For Late November; Other States Paying Attention
Monday, October 7th, 2013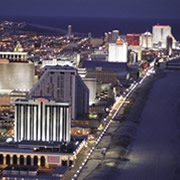 In late November, 12 Atlantic City casinos will have a soft launch for online gambling. Trial participants will consist of selected gamblers and will last for five days. If, on November 26th at 9 a.m. the trial period goes without a hitch, the casinos will have the opportunity to initiate full-service Internet gambling. This does have restrictions, however, because of state gambling laws. Only gamblers physically within New Jersey state borders are able to play, leaving out-of-state residents in the dust.
This is only the beginning, however. According to reports, casino representatives are expecting at least a 20 percent increase in overall revenue. Since 2006, casino revenue has dropped more than 40 percent in the United States. Results will likely persuade other states to take a second look at the highly debated topic of online gambling, and more trial periods are likely to surface over the coming years. More in-state revenue means states can tax more off of casinos. This is a win-win-win scenario for all involved: casinos are making more to start with; therefore, states can make more money, and gamblers will have more options.
These boardwalk casinos are partnering with Web-based gambling giants to help combine assets, branding, and infrastructure. Nine out of 12 casinos in Atlantic Casino have already chosen partners to go in with for their legal online casinos though some are electing to create their own online gambling platforms.
Online gambling is a highly debated topic because of state-to-state laws and regulations. Horse betting, for example, can be done from off-site locations — why not play blackjack from the comfort of your own home? As the regulated online gambling trend takes hold, the U.S. is likely to see a decrease in black market and illegal gambling nationwide.
Even still, there are plenty of legal online gambling options for those based outside of New Jersey that will not get the opportunity to play at the Atlantic City casino website, which most of the country will not at this point in time.
There are legal gambling sites that are regulated and accept American bettors from all 50 states in the U.S. While the issue of gambling online in the U.S. continues to be debated, these sites provide a fantastic outlet for U.S. players living outside of states that have regulated the industry. Sites located offshore are not under the regulation of the federal government and operate legally within the area in which they are located abiding by gambling laws. The simple fact of the matter is that these sites cater directly to American bettors for this very purpose; there is a demand there that isn't being met within the country as of yet.