Incomplete Applications Could Potentially Delay Launch Of Legal Gambling Sites In NJ
Mon., September 16th, 2013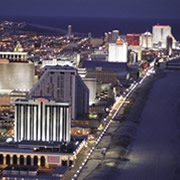 The launch of a large online gaming operation in the state of New Jersey has long had a target date of November 2013. The original approval of the project was passed back in February by Governor Chris Christie. However, recent reports indicate that the launch of the Atlantic City casino sites might be delayed further.
The Division of Gaming Enforcement in New Jersey has reportedly issued a request to several online gaming applicants to provide several pieces of missing information left off the initial application for an online gambling license.
Highlights among the information that the DGE requested is the third-party contract information. This directly relates to the different partnerships that the casinos undertook as a part of the launch, where each of the dozen casinos planning to operate sites joined up with different ventures and companies to help run the different sites.
A deadline of Friday, September 20th has been instituted by the DGE for casinos to submit all of the complete information that if requested.
The November 23rd legal Internet gaming launch date has not officially been moved, but the conventional thought is that a delay like this would inevitably force a push back of some time period. Assuming that the casinos comply and get the materials in by the deadline, then the late November or early December launch could still be quite feasible.
Coinciding with New Jersey's plans for online gaming is the interstate network that has been paid out between them and Nevada, which currently has active online gaming taking place. Legal online gambling in Nevada has been in place since April of 2013, though currently it's just online poker that is offered by Ultimate Gaming.
The New Jersey online gaming project will include online poker, but will also cover many other casino games such as different table games and slots. But there has been talk about Nevada and New Jersey eventually working together expanding the online gaming industry in their states, with the hopes of other states joining in the future.
The Nevada Gaming Control Board has heard from Bally Technologies and International Game Technology to move forward with interstate networks, and could potentially allow for this to happen. At the same time, Nevada Governor Brian Sandoval has already signed legislation that would allow for this type of project to occur. The next step in the process would be for the NGCB to approve regulations as far as to what would be allowed to happen.
As it stands, the interest behind the launch of the New Jersey online gambling sites is very high, with more than just Nevada keeping a close eye. With both state Governors on the side of online gaming, these two states have the potential to lead a new online gaming revolution in the United States.