SportsBetting Ups NFL Reload Bonus To $2,500 Through End Of Month - 50% Match
Sat., September 14th, 2013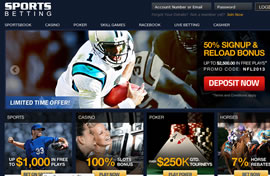 Sportsbooks often like to create incentives to cultivate new account holders to their site. But it also helps when the website has some great betting odds and options for those account holders in the process. That is exactly what can be found at SportsBetting's online sportsbook, one of the most trusted betting sites that take USA players, with the release of their new bonus offers for the 2013 NFL season.
SportsBetting features two separate NFL promotional offers. The first bonus is a 50 percent match on a deposit with the cap set at $2,500 on the bonus. That means that $5,000 deposit can earn a bettors the maximum bonus, but any deposit amount below that will also equate to the 50 percent match stipulated in the bonus.
To exercise this bonus option, which goes until the end of September 2013, bettors can simply input the bonus code NFL2013.
But SportsBetting doesn't stop there, as they have an extended bonus that will last from October 1st until the end of the 2013 NFL season. The bonus option is a 25 percent match to the same maximum amount on a re-up, which is a deposit after the initial deposit that is made. The same bonus code can be applied here as well.
With the popularity of mobile betting at SportsBetting, the site has decided to institute a $50 free play bonus on the first mobile bet made. The mobile betting site can easily be accessed from an iPhone, iPad, Android, Windows Phone, or a BlackBerry. There is no application download, bettors can simply visit the site and it will translate to the mobile version that is user-friendly and easy to navigate.
Keeping with the theme of mobile betting is another popular feature in live betting. SportsBetting has a live betting section on site that allows bettors to get in on game action currently taking place. A $25 free bet is available to players who make their first live wager. The funds come from the bettor's account, but if the bet is lost than the money is returned to the account by the cashier at SportsBetting.
SportsBetting will have the game lines, props, futures wagers and more on the NFL that you are looking for. There is a multitude of betting types that can be used by bettors as well. To get the free bonus cash and use it when betting on the NFL, create an account today. Or if you already have a SportsBetting account you can re-up on your account with the bonus code and earn the free cash in the process.
More Bonuses For 2013 NFL Season:
9/6 - Bovada Users To Get Two New Promotions For 2013 NFL Season