Bovada Rolls Out New Promotions For 2013 NFL Season
Fri., September 6th, 2013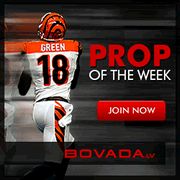 The top online sportsbook for betting on the NFL is at it again for the 2013 season. Bovada Sportsbook is known for its complete coverage of the NFL, spanning betting odds, competitive payouts, and research information.
With the 2013 NFL season set to open up, Bovada is bringing about all new promotions that are available to their account holders.
There are two specific sportsbook promotions specifically geared to the NFL that Bovada Sportsbook has released. They are '2-For-1 Tuesdays', and 'NFL Prop Bet Of The Week'. Both promotions give players a chance to bet on the NFL and receive bonus bets for doing so.
Beginning with the 2-For-1 Tuesdays option, it's pretty clear when this promotion can be taken advantage of. Starting every Tuesday beginning on September 3rd and running through September 24th, bettors will be able to lay down at least a three-team parlay wager on the NFL of at least $20 and they will receive a free $10 bet. The free $10 wager will be able to be used by the player the week following the qualifying parlay wager was placed.
With the promotion running through September 24, that gives bettors the chance to take advantage of this for the first four weeks of the season. That is the opening slate of 25 percent of the games played on the season.
Regardless of the outcome of the original parlay wager, it has no bearing on receiving the free $10 bet to be used the next week.
For the NFL Prop Bet Of The Week, this will be able to be found on the official Bovada Facebook fan page. Bovada will designate a prop bet for that week, with a bettor eligible to receive a free $5 mobile wager with a $10 bet or more on the prop bet of the week in the NFL. The prop bet that is labeled the bet of the week will be released on the Facebook page on Fridays.
The mobile site for Bovada does not require any application download, and is available across a myriad of mobile devices. This includes Apple products and Android operating systems.
Bovada covers prop bets as good as any legal online sports betting site in the industry, and the prop bet of the week could be a player prop or team prop. Each week Bovada releases hundreds of props for the different matchups, with no NFL game left out. Payouts for prop wagers can be pretty good, and the wide variety caters to all kinds of bettors.