Vote To Determine If Suffolk Downs Will Bring Casino To East Boston
Wed., September 4th, 2013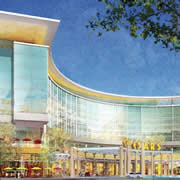 A proposal for the largest casino in the state of Massachusetts could come to a vote with residents in East Boston within the next couple of months, following the announcement of plans for a new project in the area.
Suffolk Downs is in the midst of an agreement with the Massachusetts Gaming Commission that would bring the casino to East Boston.
The new casino project would give Boston somewhere in the neighborhood of $32 million each year, in addition to a one-time payment at the beginning of the launch which would be $33.4 million, according to reports.
Mayor Thomas Menino is at the center of this project as it relates to the city, and has been in negotiation with Suffolk Downs on the facts and figures, including potential provisions for the yearly installments to exceed the original amount should the revenue generated by the casino go above and beyond the initial expectations.
There are additional provisions made to the project from the Mayor as well. Among them to include a construction period of no more than 14 months to 'early opening' as well as a minimum of $50 million a year spent on products and tangible services from the city of Boston to keep it within the local economy.
Talks between Suffolk Downs and Boston has been going back and forth for more than a year, during which time Wynn Resorts came into the equation for another location in Everett, Massachusetts.
To bring it to a vote, it's possible that it could take place as early as October, or perhaps as late as November. The month of November also happens to be the target date for the launch of the legal New Jersey online gambling project, which spans all of the Atlantic City casinos in the state. That will also be an interesting time for the gaming industry, as many eyes will be on the New Jersey online gambling situation to see how it operates and the revenue that it begins to generate.
The state of Massachusetts remains without legal state-regulated online gambling, but the continued openings of new casinos could be a future catalyst for any plans to developing online gaming sites for Massachusetts residents in the state.