Delaware Launches Free Online Casino Games As Precursor To Real Thing
Friday, August 30th, 2013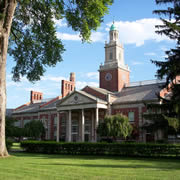 The road toward complete legalization of online gambling has been a long one, and it is very much ongoing. Anyone who doubts that real progress has been made, however, needs only look to the state of Delaware. Aside from Nevada and New Jersey, no state has proven quite so gung-ho about legalizing Internet gambling—and at the end of August, Delaware made some small but important steps toward opening legal online gambling to the public.
In fact, legal online gambling has been made available in the state of Delaware—so long as you are willing to play without money. Reports indicate that Delaware's three casinos have launched the first phase of the state's Internet gaming operation, unveiling Web portals for free/no-money slots, poker, blackjack, and roulette games.
According to the report, these no-money games are meant as trial runs and precursors to the upcoming bevy of real-cash Internet gambling sites, which are scheduled to launch toward the end of October.
Other notes: Delaware is dubbing these new gaming efforts the first online casino gambling options in the country (though to be fair, several Las Vegas casinos are offering online poker options to Nevada residents.) Delaware's online gambling options will only be open to those who actually reside in the state of Delaware, yet they will save avid gamers the hassle of having to go to actual, physical casinos.
According to other reports, Delaware's casinos are currently directing their visitors to the Facebook-linked gambling platform DoubleDown Casino, which is run by the slot machine company IGT. The free games will be available to any gamers from anywhere in the world—though once the real-cash games begin, the only players legally allowed to play are those who live within Delaware's borders.
Even once those for-money games come online, the free games will continue, and they include an assortment of card games, slot games, and table games.
The state is also finalizing plans for an interstate pact with Nevada to expand its casino empire and to also usher in mobile gaming by next year.
Delaware will be the first state to offer a full array of online casino options—briefly leaping past Nevada's poker-only offerings to become the nation's leader in online gambling—but its dominance over the field may be short-lived. New Jersey is close behind, working to implement legal online gambling initiatives that were passed earlier this year.