New Jersey Reports Atlantic City Casino Revenues Down 3.6% In July
Sunday, August 11th, 2013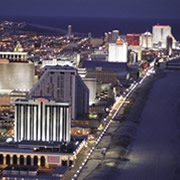 Revenues for the Atlantic City casinos in the state of New Jersey took a slight hit in July of 2013 from their position a year ago. According to an Associated Press report, the figure was a total of 3.6% revenue lost from this time last year.
In terms of dollar amounts, the drop was from $308.2 million in July of 2012 compared to $297.2 million this year.
It will be interesting to see in the coming months the revenue generated from the Atlantic City casinos, because of the fact that the legal online gambling industry is about to take off in the state. All Atlantic City casinos are in on the project, though that is not scheduled to become active until sometime in November.
On the whole, Atlantic City casinos have dropped by roughly 10 percent in revenue in a year. That is why the sector is quite excited about the upcoming launch of the online industry. This will bring in an entirely new market and add to the overall revenue to the state.
It's not all lost news for the New Jersey casinos though, as there were some that made a nice profit. That is highlighted the Revel Casino Hotel, which rose a whopping 33 percent.
Revel used a marketing approach that actually paid gamblers back some of their losses over the course of months. This caused a big increase in the revenue generation that the casino took. The month of July 2013 is the best month on record for the hotel.
This is quite the turnaround for a casino that was on the verge of bankruptcy as recently as May.
"We have made it clear that at the new Revel Casino Hotel, gamblers are wanted, and they have clearly responded," said Jeffrey Hartmann, who is the interim CEO. "We are deeply grateful that many Atlantic City gamblers are giving us a second chance."
Among the New Jersey casinos that suffered the biggest losses of the month were Tropicana Casinos and Resort, as well as Trump Plaza Casino, which dropped 26 percent and 25 percent respectively.
The state gambling environment is about to see a big change though with the emergence of online gambling in New Jersey soon to take hold. Whether or not this has a big affect on the land-based casino revenue generation will be seen after the first couple of months, likely in the early part of 2014.