Pennsylvania Having Doubts About Legalized Internet Gambling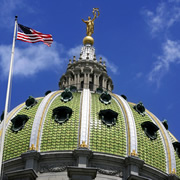 The chair of the Gaming Oversight Committee in Pennsylvania, Rep. Tina Pickett, has said that she is concerned about legalizing online gambling at this stage, and is worried to bring "gambling to everyone's kitchen table."
Rep. Tina Davis had hoped to have her bill passed by the Gaming Oversight Committee in the Pennsylvania House. Pickett has made it clear that she sees it as unlikely that Davis' online gambling bill will pass out of her committee anytime soon, and that it is not likely that it will be passed during the upcoming session that will continue through the end of this year and into 2014.
If Rep. Pickett does not change her mind, Pennsylvania residents should expect a long wait before the idea of legalizing online gambling might be revisited. The soonest it might be able to be brought to the committee again would be sometimes in 2015. Until that time, if the committee does not change its position, the Keystone State will remain without legalized online gambling.
The proposed online gambling bill had some problems right from the start. In fact, when Davis first tried to introduce it early this year, it was met with delays a number of times. There was also much criticism for the bill that came with a very high tax rate for online gambling of more than 20%. This tax rate was more in keeping with the high taxation that is levied on land based casinos in Pennsylvania. Many were of the opinion that online poker sites with such a steep tax rate would be unable to survive for any length of time.
Pennsylvania currently has a very strong land based gaming market, which is ranked second in the United States, with only Nevada ahead of it. While Davis tried to get this online gambling bill approved, she did so in order to make sure that Pennsylvania held onto its gaming profitability. Davis seemed concerned that New Jersey could overtake Pennsylvania's slot in the gaming market ranking.
Other concerns include those from individuals and groups that are worried that if online gambling is accepted by law that it will be far too accessible to those that may be at risk for gambling addiction.
In New Jersey, Governor Chris Christie made it clear that the New Jersey online gambling bill would only be accepted if there were funds allocated to towards dealing with problem gambling. He only agreed to sign the New Jersey online gambling legislation into law when this provision had been made.
Many believe that Davis' online gambling bill had no chance, even from its early days, and that should she wish to have an online gambling bill stand a chance, there would be some major changes needed before taking it to the Gaming Oversight Committee.