Legal Horse Betting Sites
There are hundreds of legal horse betting sites to choose from, but many horse enthusiasts still question the legality of horse betting. This is due to the sometimes restrictive nature of the laws surrounding other types of gambling in the states. It turns out that pari-mutuel horse wagering was one of the first types of legal gambling in the United States, with most states offering several horse betting options to its residents. We want USA horse bettors to take full advantage of all the horse betting opportunities that are legally available. Offshore online racebooks are sometimes overlooked, but they provide the most perks and are the most profitable to US bettors. There are trustworthy horse racing sites that are made for bettors of every experience level.
Joining sites for legal horse betting is a big decision, and there are a few things you should know before signing up. We can give you information on the legality of USA horse betting, both land-based and online. Many bettors question the relationship between sports betting and horse racing betting, and we can offer insight on this as well. In addition to types of horse bets and odds, you can also read our honest reviews of some of the best online horse racing betting sites.
Betting Odds For The 2018 Preakness Stakes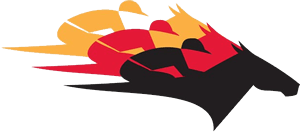 The dust has barely settled from Justify winning the first jewel of the Triple Crown and you can already find horse racing futures for the Preakness Stakes. The undefeated three-year-old is favored to win the upcoming race that will take place a Pimlico Race Course in Baltimore, MD. Justify has -160 betting odds to win the 2018 Preakness Stakes. Good Magic finished 2 ½ lengths behind Justify and is definitely a horse that will be featured on plenty of tickets should he participate in the Preakness. The Preakness Stakes betting odds for Good Magic are +600. Audible came in 3rd in the Derby but has slightly better odds than Good Magic at Bovada Racebook. There are +500 odds for Audible to win the 2018 Preakness Stakes.
Is Horse Betting Legal In The States?
Horse racing has played such a monumental role in US history that it should come as no surprise that horse betting is legal in the states. The majority of states have laws that permit horse racing betting and regulate various Thoroughbred and harness tracks around the country. Racetracks and off-track betting locations are licensed to accept bets and also provide simulcasts from other racetracks around the nation. Unlike other forms of gambling in the US, there are plenty of legal online gambling sites with options as well. Horse racing tracks will often have their own wagering sites, though offshore horse racing betting sites have the best options for US horseplayers.
How Is Horse Betting Legal But Not Sports Betting In General?
One of the most common questions we receive is how is horse betting legal, but not sports betting in general? The answer is not clear cut but it has to do with the longstanding history of horse racing and the pari-mutuel wagering system. Rather than going up against the house as you would when sports betting, winners are paid from a pool that is thought to prevent the house from trying to influence outcomes in any way. The pari-mutuel wagering system has been in existence for hundreds of years. The fact that you are wagering on horses rather than individuals also plays a role. Betting on athletes has never been widely accepted throughout history, but horse racing has been a spectator sport involving skill and luck that spans back for centuries. Of course, money is also another motivator, with the US government being able to easily regulate the horse racing betting industry that brings some states over $2 billion annually.
How Does The Wire Act And PASPA Fit Into Legal Horse Betting?
Now that you know horse racing betting is in a category of its own, how does the Wire Act and PASPA fit into legal horse betting? We can first start by breaking down what both of these laws mean. The Wire Act of 1961 prohibits gambling businesses from transmitting or accepting wagering information related to sporting events by way of a wire communication facility. While there was initially general ambiguity about what was defined as a "sporting event", the Interstate Horse Racing Act (IHRA) of 1978 cleared all that up. The IHRA specifically authorizes the electronic transmission of horse bets between licensed facilities. In 2000, this law was amended to specify that internet horse bets were also permitted.
The Professional and Amateur Sports Protection Act of 1992 is directly related to the state of sports betting in the USA. PASPA made it illegal for state governments to establish land-based sportsbooks or issue new sports betting licenses. The only exceptions were the four states that had a proven history of regulated sports betting- Delaware, Montana, Oregon, and Nevada. PASPA includes language that specifically excludes horse racing, dog racing, and jai alai from the scope of the law.
What Makes The Top Legal Racebooks The Best?
There are many reasons that make the top legal racebooks the best. You have more convenience and flexibility than you could ever get by visiting your local track. If you live in a state that does not offer any race tracks, legal online racebooks are really your best option. You also are put in a position where you have more opportunities to wager and win real money, which is the ultimate end goal besides having fun. You can legally watch races and horses while focusing solely on the event, not dealing with crowds or long lines. The top horse betting sites that we recommend are also full of perks and special member benefits. It would impossible to name them all, so here is a list of the top seven advantages of online horse betting sites.
Advantages Of Online Horse Betting Sites
Huge Deposit Bonuses
Horse Bet Rebates
Fast & Easy Banking Options
Horse Racing Tips
Free Horse Picks
Live Horse Racing Streams
Bet From Anywhere, Anytime
Legal Online Horse Betting Sites
There are numerous legal online horse betting sites to choose from, but we will help you narrow down your options. One of the most important aspects we look for when ranking sites is the reliability of their banking options. Horseplayers should be able to easily get their money in and out. As USA players, customer service is also very important when dealing with an offshore racebook. The sites we have selected all have several customer service options such as live chat, telephone, and email. Finally, we only use online racebooks that have a wide variety of Thoroughbred and harness race tracks to choose from. You should be able to bet on races from all over the world from the comfort of your home. The four horse racing betting sites that we suggest joining are Bovada, 5Dimes, SportsBetting, and BetOnline.
Bovada Racebooks - Legal Kentucky Dery Betting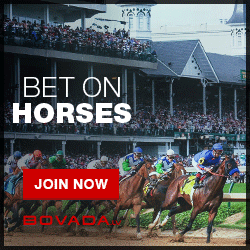 Bovada Racebook has been the #1 site for legal horse racing betting for years. The online racebook caters to North American players and has everything you are looking for out of an online racebook. There is no other site that has more than 75 Thoroughbred and harness racetracks featured in the racebook. These tracks are not only in the USA, but in Ireland, Australia, Hong Kong, and other countries from around the world. You can watch Del Mar races, or visit Santa Anita for the latest horse betting odds. You can always explore the extensive archive of horse racing results to help develop an even better wagering strategy.
There are plenty of chances to win at Bovada with all of the different wager types. The book accepts action on straight wagers such as win, place, and show bets. If you're looking for a larger potential payoff, you can also bet exactas, trifectas, superfectas, and other exotic wagers. Bovada Racebook is currently accepting players from the US, create your free account today.
SportsBetting Racebook - Mobile Betting App For Horse Racing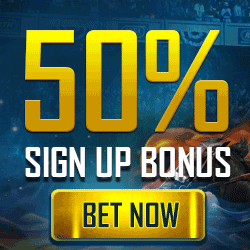 SportsBetting Racebook has the most intense horse racing betting action around. Every day, there are a ton of horse betting odds to choose from at your favorite Thoroughbred and harness race tracks. All you have to do to start betting the horses is make a quick and easy deposit. The most popular deposit type is bitcoin, which has one of the highest banking limits. You can instantly deposit anywhere between $25 and $10,000 in bitcoin at 5Dimes. Visa and MasterCard are the second most popular methods, with limits between $50 and $500 per transaction.
You can make your deposit from your laptop, or you can make it while you're out and about. 5Dimes offers one of the best mobile betting apps for horse racing. Nearly every device is compatible, from iPhones and Androids to Windows and BlackBerry devices. You can do almost everything you can from the desktop site, including creating an account, making deposits, betting horses, and requesting withdraws. You will not be disappointed with the horse racing betting site, so why not sign up at 5Dimes today?
BetOnline Racebook - Future Odds On The Triple Crown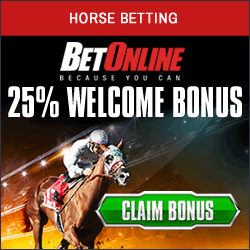 BetOnline's racebook product is one of the best in the industry. You can always count on the latest horse betting lines, odds, and horse racing news. While you can bet on the day's races at any of their featured tracks, you will also find that they have a stacked horse futures and propositions section. The future odds on the Triple Crown are what we look forward to every year. You can find the best horse betting value when you use BetOnline to get a head start on your winner for the next year. You find outright odds to win the Triple Crown along with plenty of matchups.
With so many opportunities to win, there will naturally come a time where you need to cash out. BetOnline has some of the most expedient withdrawal methods of any online racebook. Bitcoin is the fastest payout method, with funds reaching you within 48 hours though it is often just a few hours. You can request as little as $20, or as much as $10,000. Keep in mind that as you build a relationship with the racebook, these limits can be adjusted. BetOnline accepts players from all 50 states, which means you will not run into any issues when you create an account at BetOnline.
Understanding Horse Betting Odds
When it comes to understanding horse betting odds, there are three different odds formats that you will come across. There are decimal, American, and European odds, though the last two are the most common. American odds will look similar to this:
Kentucky Derby 2017 - American Odds to win
Always Dreaming +600
Irish War Cry +800
If you were to bet on Always Dreaming, you would need to bet $100 to potentially win $600. If you wanted to wager on Irish War Cry, you would put down $100 to potentially win $800. Anytime that there is a + sign before the odds, you can win more than you have to risk. If there is a – sign before the odds, you will have to risk more than you will win.
Kentucky Derby 2017 - European Odds to win
European odds are also known as fractional odds. The fraction represents the win/risk ratio. For example, we have the same betting line from above but displayed in fractional format.
Always Dreaming 6/1
Irish War Cry 8/1
A general rule of thumb with fractional odds is that if the fraction is greater than one, your winnings will be more than the amount risked. If the fraction is less than one, you will have to risk more than your potential winnings.
So American And European Odds Payout The Same On Horse Races?
Yes. American and European odds payout the same on horse races. The only difference between the two is that the odds are displayed differently. If you are using an online racebook that primarily accepts American players, you are more likely to the American odds format. If there is a lot of European traffic, you will see the horse betting odds displayed in fractional format.
Do online Books Have The Same Wagers Available As The Track?
You do not have to learn a whole new set of wager types because online books have the same wagers available as the track. There are straight bets, including win, place, and show wagers where you bet on your horse to come in first, second, or third. Exotic wagers are also available at online racebooks, including exacta, trifecta, and superfecta bets. You will also have the option to box any of these bets in order to wager on all possible combinations. If you want to bet on the winners of a specified number of races, there are also pick 3's and pick 6's. Horse racing betting sites make your transition from on-the-track betting to online horse betting as easy as possible.
How Are Straight Wagers Different Than Exotic Bets?
Straight wagers are different than exotic bets in two ways- the complexity of the bet and the payoff amount. Straight wagers only involve one horse and a singular event. On the other hand, exotic wagers involve multiple horses and can also stretch across 6 or more races. Exotic bets require bettors to be more exact with their selections and are more difficult to win. As such, the payoffs for straight bets are lower than exotics. While you can simply multiply the odds times your wager and then add the original wager to calculate straight payouts, exotic wagers are more complicated as you have to consider the amount, wager type, and whether or not the bet is boxed. Legal horse betting sites will automatically your payouts for straight and exotic bets.