Bovada Chooses Lions' WR Calvin Johnson For Prop Squad Promo In Week 11
Thursday, Nov. 14th, 2013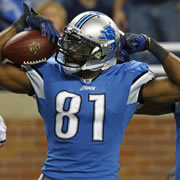 Without having the specific numbers from last week, it's a safe bet to assume that a wager placed on the high end of Drew Brees' numbers against the Dallas Cowboys would have won most props. A 392-yard, four-touchdown performance in the Saints' 49-17 is evidence of that. Those who entered the Prop Squad promotion from Bovada, a leading online gambling site legal for U.S.A. players, received their $10 bet regardless of the outcome of their specific wagers however.
Fast forward to Week 11 and it's another player that big things are expected from. That would be Detroit Lions receiver Calvin Johnson. Throughout his career, Johnson has put together some memorable performances, but there wasn't any better than the 329-yard game he has against Dallas in October which nearly set a NFL record.
With Johnson on the field, there is always the chance for a game-changing play. He and quarterback Matthew Stafford have developed quite the connection, forming one of the best tandems in the league.
That will be on display this Sunday when Detroit visits the Pittsburgh Steelers. The Steelers happen to have one of the top passing defenses in the NFL (4th), but have yet to face a dynamic playmaker on the outside like Johnson.
Look for Bovada Sportsbook to field prop wagers for Johnson in the days leading up to this matchup, which will place game totals for his statistics. Johnson is averaging just over 100 yards receiving and one touchdown per game through the first half of the year for the Lions. You can bet that Stafford will be looking for him throughout the afternoon anytime that he is on the field.
Johnson is coming off of a six-catch, 83-yard performance last week in a win over the Chicago Bears. He was targeted 17 times by Stafford.
Whether the prop wagers on Johnson win or lose, the Prop Squad promotion at Bovada will honor the free $10 bet that is afforded to account holders entered into it. There was plenty of action on Brees last week, and that will likely be the case on Johnson this week with Bovada going back-to-back on two of the NFL's biggest offensive producers.
Detroit and Pittsburgh will kick off Sunday at 1 pm ET with coverage provided by FOX.