Drew Brees Player Props Featured In Week 10 Thanks To Bovada's Prop Squad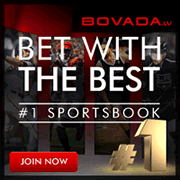 It's a stark contrast in this week's 'Prop Squad' player from Bovada Sportsbook, as they switch from defense to a prolific offensive player. New Orleans Saints quarterback Drew Brees will be the player of the week for Bovada Sportsbook's ongoing prop bet promotion.
Last week Ravens' defensive lineman Terrell Suggs was the choice. And while there are certainly some great prop bets for defensive players, there is no doubt that odds for a quarterback like Brees have the potential to get plenty of action.
It starts with the fact that Brees and the Saints face the Dallas Cowboys Sunday. Last time Brees went up against the Cowboys defense he threw for more than 400 yards and three touchdowns. Bettors shouldn't be shocked if the numbers installed to Brees and his performance against Dallas are some of the highest seen of any other quarterback for Week 10.
Account holders wanting to participate in the Prop Squad promotion at Bovada can get in on the action this week by entering into it. For those users that have already played, the same stipulations apply. Simply lay down a bet on Brees of $20 or more, and a free $10 bet for the following week is credited to your account.
Among the available options to place on Brees will surround his passing yardage total, touchdown total, completions, interceptions and more. Bovada typically releases NFL player prop betting lines for Sunday games 24-48 hours in advance of kickoff.
Dallas and New Orleans kick off in primetime at 8:30 pm ET on NBC, so this one will be a nationally televised matchup.
The Saints are coming off of a loss last week to the surprise New York Jets, but get this one at home where they have arguably the biggest home-field advantage in the league with the Seattle Seahawks. New Orleans has been set as a touchdown favorite in the matchup, with the game total set at 54 points, meaning oddsmakers are expecting some scoring in this one - legal online betting sites show only one other game on the schedule with a higher game total (Denver vs. San Diego) and rightfully so...