WSOP Final Table Begins Monday; Nine Players To Play For World Championship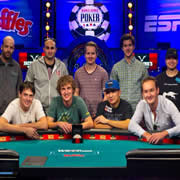 Nine players are returning to the table to face off in this year's World Series of Poker final, which begins tonight. Among them are eight poker professionals—one of whom also moonlights as a tattoo artist—and a club promoter. According to reports, the nine competitors are in Las Vegas competing for poker's ultimate prize—a prize that totals some $8.4 million, plus the title of WSOP champion.
Of the nine competitors, seven are guaranteed to become millionaires. The first player eliminated will walk away with just $733,000, the amount paid to each competitor just for making it to the finals.
The tournament began with a much higher number of players, of course—6,352, to be exact—and the paying field was whittled down to this final nine back in July. Now, the players will compete in no-limit Texas Hold 'em to determine which contender is truly poker's top dog.
As ever, this year's World Series of Poker has attracted a diverse range of participants, ranging from professional poker players to well-known TV and movie personalities, among them avowed card buffs Jason Alexander and Ray Romano. The defending champion, Greg Merson, was knocked out during the series' fifth round.
Despite the range of contenders, it comes as no great surprise that the nine finalists are made up mostly of professional poker stars. Given that they have had a full three months to develop their strategies for the final round, the events of tonight and tomorrow will surely prove exciting.
The World Series of Poker's final two nights will be broadcast on ESPN; the chip leader, going into the first night, will be J.C. Tran, a poker pro from Sacramento. Whoever is still standing after tonight's play will return tomorrow, playing until one player has amassed every chip on the table.
This year's play will be enhanced by the presence of a brand new, real-money online poker site, launched by the event and regulated via recent legalization of Internet gambling in Nevada.