NFL Parlay Series Latest Promotion To Be Added By Bovada For 2013 Season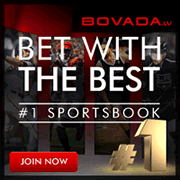 The NFL season is in full gear, and Bovada is here to meet the bettor halfway. Successful sports betting hinges on diversification, gut feelings, and a firm understanding of how to beat the odds. One healthy wager is the parlay, or combo, bet. This betting system requires a bettor to place a series of linked wagers. To win, every wager needs to be met; it's a loss if any one bet doesn't pull through. Instead of placing multiple wagers, the parlay is a simple alternative that is similar to placing a to-win horse wager over multiple races.
These slight-risk, high-reward bets are made better on Bovada because of the online betting source's 10 percent rebate for five-team parlay bets. Whether or not a bettor wins the parlay, a 10 percent rebate is added back into the account. The NFL Parlay Series includes this week's payback followed by a jackpot, power parlay, and parlay payback over subsequent weeks.
This promotion comes on the heels of the initial offers that Bovada rolled out for the start of the season. One related bonus that users can also take advantage of is 2-For-1 Tuesdays - a $20 parlay placed on a Tuesday grants bettors a $10 free bet to use the following week.
At Bovada Sportsbook, new members are able to receive 50 percent on first-time deposits up to $250. This free bet is just one of many incredible perks and betting rewards, especially when bettors are just learning how to take advantage of incredible parlay bets.
Another promotion not to be missed is a free $5 bet that is attained simply by utilizing Bovada's mobile sportsbook and making a wager of $10 on the featured NFL Prop of the Week listed each week on Bovada's Facebook page.
These betting bonuses are designed to propel active bettors higher in the green. A lot of new sports bettors tend to stick with straight bets with modest payouts; but with a promoted parlay, for example, a confident bet can yield a massive payout.
Online sports betting is an often inaccessible activity in the United States. Fortunately, Bovada is a non-U.S., fully legal and registered betting platform that Americans can use. In fact, much of the major media usually defer to Bovada when referencing odds and LegalOnlineGamblingSites.com staff use the website when they make wagers on any sport.
With outstanding features that include NFL parlay paybacks and other reward systems, Bovada looks forward to offering additional bonuses to their valued users that bet money on the NFL as well as the majority of other types of major sports.